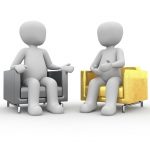 Individuals
Main techniques used are REBT and Person-centered therapy. All clients will have the basis of a Person-centered therapy with techniques and goals determined by their needs. Some adolescents may require their belief system disputed to realign them with the core values they have underpinning the maladjustments they may be experiencing.
Family
Solution-focused has significant value in working with families because of the basis of empowerment and strength according to, Kiser and Piercy*, (2014). Reality therapy techniques of avoiding and discussing complaints would set the tone for family and couples to work on the interpersonal conflicts. An optimal therapeutic environment for working with families, cooperating to understand each other, permits them to forge through many issues. Love is not always enough and everyone in the family has a need to be understood.
The goal of therapy is to provide an empathetic, nonjudgmental environment that allows the client and therapist to work together towards a mutually agreed upon set of goals. From Fred Rogers to Carl Rogers believing in humankind runs deep.
Other Types of Therapy Offered:
♦  Play Therapy
♦  Pet Therapy
* Kiser, D. J., & Piercy, F. P. (2014). Creativity and family therapy theory development: Lessons from the founders of solution-focused therapy. InterAction, 6(2), 51-85.