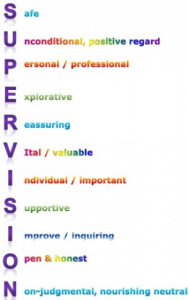 Supervision requires the direct observation and guidance of all clinical practice and functioning.  It includes a review of clinical documentation, improving clinical skills and ethics training, develop and/or review of clinical procedures, and ensuring best practices.
Objectives:
Observe and ensure welfare of clients seen by Resident in Counseling.
Promote development of Resident in Counseling's professional counselor identity and competence.
Fulfill requirements in preparation for Resident in Counseling's pursuit of licensure
Supervision approach will be a combination of Integrated Developmental Model and Person –center supervision to provide an environment of progression for the Resident in Counseling to fairly evaluate their work performance, counseling skills and personal issues they bring into their practice.
Supervision will involve client case review and collaborative problem-solving.  Supervision will focus on accountability to ethics and best practice principles.  This progression may include reflection on professional boundaries with clients, personal awareness, the importance of forming and preserving trust of clients, and exploration with clients towards therapeutic goals. Supervision aims at creating a warm, empathetic environment in which the RIC can review counseling skills and become exposed to new concepts for clinical maturity. Supervision will also address matters, such as countertransference, that affect therapy and personal self.
Supervision offered for:
    ♦  Individual     ♦  Group     ♦  Mentoring